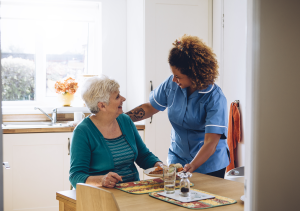 In 2013, a little over 1 million Virginia caregivers provided 956 million hours of care to family members, friends and loved ones with chronic illness or a disabling condition (AARP, 2015). Care might include medication management, running errands, grocery shopping, preparing meals or assistance with basic self-care tasks like bathing, eating, toileting or transferring such as from bed to wheelchair, for example. The majority of family caregivers work full and/or part-time jobs. Providing care for chronically ill or disabled loved ones, oftentimes while managing families of their own and working full/part-time, caregivers can become overwhelmed very quickly.
While caregiving can be stressful physically, emotionally, and financially, critical supports and education can help to reduce the caregiver's burden. To that end, DARS works collaboratively with local Area Agencies on Aging (AAA) and the Virginia Caregiver Coalition (VCC) to offer the following education and support opportunities:
National Family Caregiver Support Program (NFCSP) provides a multifaceted support system that helps families sustain their efforts to care for an older individual or child or a relative with severe disabilities. These support services, which do not supplant the role of the family as caregiver but enhances their ability to provide informal care for as long as appropriate, shall be provided to family caregivers, grandparents, or other older individuals who are relative caregivers. To discover what supports might be available for you in your area please contact your local AAA.
Virginia Caregiver Coalition (VCC) Established in 2004, the VCC is nearly 200 members strong today. The VCC members include family caregivers, disability and aging community agency staff, state agency employees, and university and independent researchers. Meetings, conducted at numerous sites across the Commonwealth, are held every other month for networking, training, education, project brainstorming, and resource sharing. Membership is free with a completed application.