Find the Plan for You
VICAP counselors can help all Medicare beneficiaries, including those with disabilities and younger than 65, explore options that best meet their needs. Counselors will help you compare the quality of care and services given by health and prescription drug plans available in your area.
File for Medical Benefits
VICAP counselors can help you file for medical benefits, low-income subsidies, health care appeals and grievances. Working with you, counselors are able to help you resolve health care issues and assist you in understanding complex medical bills.
Prevent Health Care Fraud
Working collaboratively with the Senior Medicare Patrol, VICAP counselors will help educate and empower beneficiaries to take an active role in detecting and preventing health care fraud and abuse.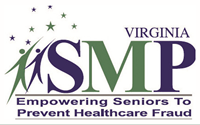 Virginia Senior Medicare Patrol (Virginia SMP) educates Medicare beneficiaries, their families, and caregivers to prevent, detect, and report healthcare fraud, errors, and abuse. Using a team of trained volunteers, Virginia SMP provides outreach, counseling and education. Call 1-800-938-8885 to report suspected Medicare fraud or to receive fraud prevention materials.
Watch and share this short SMP video to learn more and help others: https://youtu.be/LlqtkiyAoxs